Promote your Research Software in the Helmholtz RSD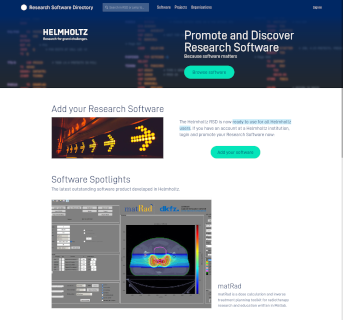 After six months of testing, HIFIS can finally open the Helmholtz Research Software Directory (RSD) for all Helmholtz members. If you have an account at a Helmholtz Institution, you can now log in to the RSD via the Helmholtz AAI, and start adding your Research Software:
https://helmholtz.software
What does the RSD offer?
The Helmholtz RSD is tailored to Research Software Engineers and Researchers that want to promote or discover research software. For RSEs, we
offer an easy to use platform to present your software in an environment dedicated to research software
show where your software has already been mentioned in papers, talks or videos
relate your software to other software, projects or organisations
provide help to researchers to get your Software cited correctly
provide interested users a gateway to get started with your software
direct interested users to your code platform
Future plans
The Helmholtz RSD is not yet finished and we just started our journey. We are constantly evaluating and further developing the platform. Please contact us via support@hifis.net or open an issue in our GitHub repository if you have suggestions, critics or anything else you would like to tell us.
Cooperation
The Helmholtz Research Software Directory is an adaption of the Research Software Directory, and we are closely collaborating with the upstream maintainers, the Netherlands eScience Center.