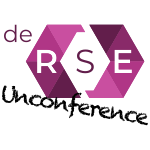 Extended deadline for Submissions
The 'deRSE Unconference 2023' which takes place on the 26th, 27th and 28th September 2023 in Jena, Germany, has extended its deadline and you still have time to get involved!
Deadline for proposing new break-out sessions (extended): May 15, 2023
Deadline for short talks (extended): May 29, 2023
Deadline of finishing break-out session proposals (extended): May 29, 2023
An "Unconference", you ask?
For this event we let YOU create the program! We offer a great location (Dornburger Schlösser, Jena), food, plenty of time and a lot of people interested in RSE, but the topics will come from you and we will make sure there are enough free slots for you to talk, code, write, and have fun. We have two different formats for you to fill: short talks with round tables and break-out sessions. To learn more and create your submission, go to the website. You can submit your break-out idea here and your short talk abstract here.
Questions?
Don't hesitate to contact the unconference orga team!