Back to Software Spotlights Overview
Centres
Alfred Wegener Institute for Polar and Marine Research (AWI)
Keywords
Data Analysis
Data Visualization
Environmental Data
Research field
Earth & Environment
Scientific community
Oceanography / Meteorology / Climate Research
Funding
Programming Languages
C++
License
Proprietary
Costs
Free
Contact
reiner.schlitzer@awi.de
Resources
ODV in a nutshell
ODV displays original data points or gridded fields based on the original data. ODV has two fast weighted-averaging gridding algorithms as well as the advanced DIVA gridding software built-in. Gridded fields can be color-shaded and/or contoured. ODV supports five different map projections and can be used to produce high quality cruise maps. ODV graphics output (see example below) can be sent directly to printers or may be exported to PostScript, gif, png, or jpg files. The resolution of exported graphics files is specified by the user and not limited by the pixel resolution of the screen.
The ODV data format allows dense storage and very fast data access. Large data collections with millions of stations can easily be maintained and explored on inexpensive desktop and notebook computers. Data from Argo, GTSPP, CCHDO, CORA, World Ocean Database, World Ocean Atlas, World Ocean Circulation Experiment (WOCE), SeaDataNet, and Medar/Medatlas can be directly imported into ODV. Ready-to-use versions of the WOCE data, the gridded World Ocean Atlas as well as many other important geoscience datasets are available for download.
ODV also supports the netCDF format and lets you explore and visualize CF compliant netCDF datasets. This works with netCDF files on your local machine as well as with remote netCDF files served by an OPeNDAP server.
webODV - ODV going online
webODV is the online version of ODV running in the browser without the need to install any additional software. webODV is perfectly suited to provide community datasets to serve always the newest versions and releases. In addition to the ODV-online, the nearly 1:1 ODV implementation, an intuitive data extraction service is available. Productive webODV instances are running at geotraces.webodv.awi.de, emodnet-chemistry.webodv.awi.de and explore.webodv.awi.de.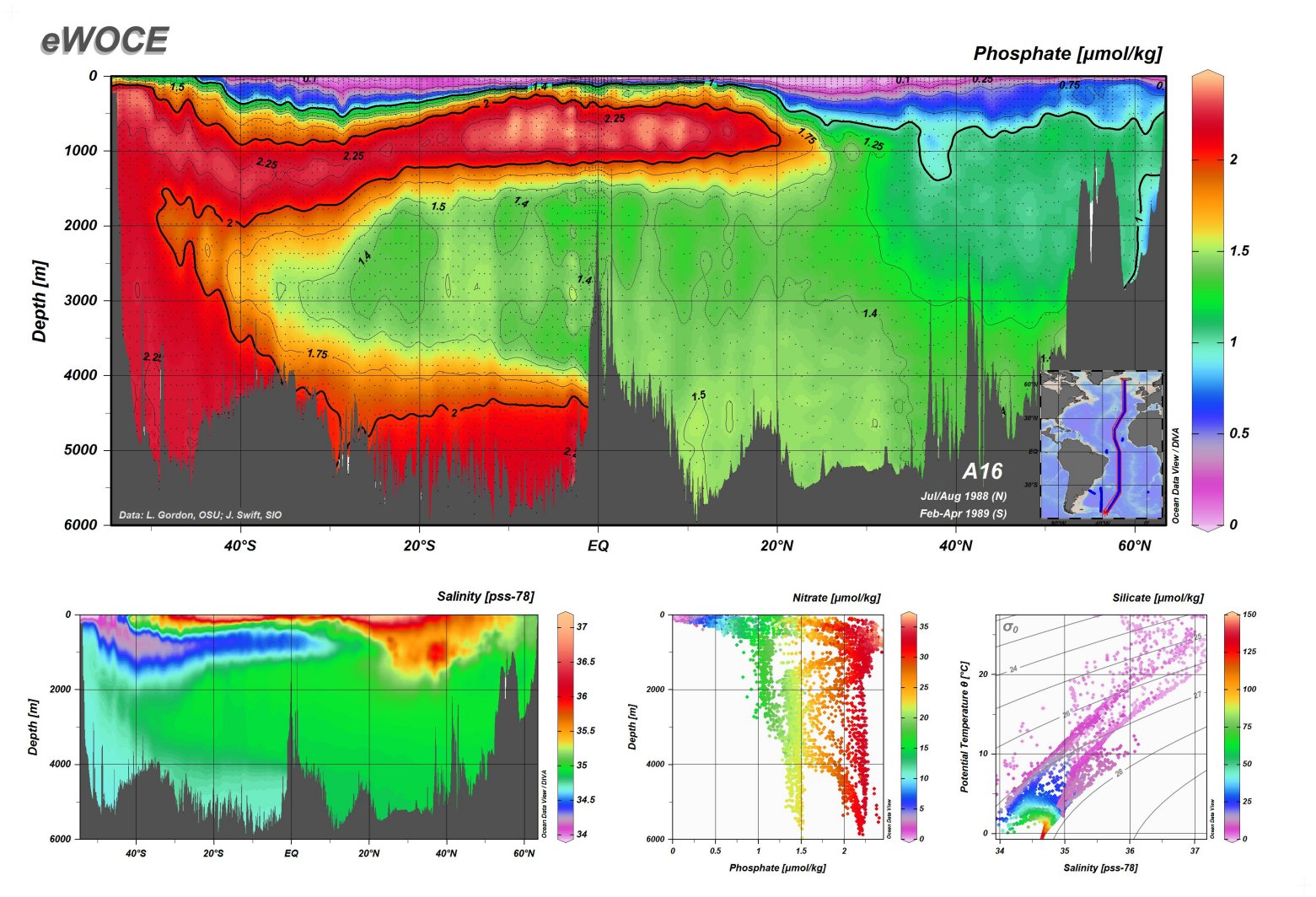 An example of an ODV section plot.
Back to Software Spotlights Overview