Back to Software Spotlights Overview
Centres
Helmholtz Centre for Environmental Research (UFZ)
Contributing organisations
TU Bergakademie Freiberg,
Bundesanstalt für Geowissenschaften und Rohstoffe,
TU Dresden
Keywords
multi-physics
thmc
hydrological modeling
geothermal modeling
geotechnics
hpc
ogs
Research field
Earth & Environment
Scientific community
Hydrology,
Geothermal energy,
Geotechnics
Funding
UFZ
Programming Languages
C++,
Python
License
BSD-3-clause
Costs
Free
Cite
10.5281/zenodo.6405711
Contact
info@opengeosys.org
Resources
OpenGeoSys - Open-source multi-physics
OpenGeoSys (OGS) is a scientific open source project for the development of numerical methods for the simulation of thermo-hydro-mechanical-chemical (THMC) coupled processes in porous and fractured media. OGS has been successfully applied in the fields of regional, contaminant and coastal hydrology, fundamental and geothermal energy systems, geotechnical engineering, energy storage, CO2 sequestration/storage and nuclear waste management and disposal.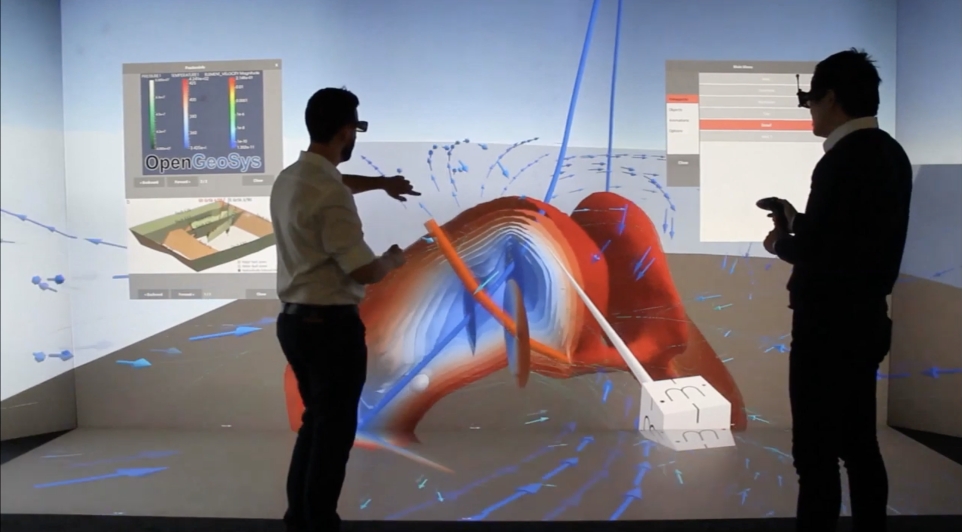 Scientists discuss the OpenGeoSys simulation results of a geothermal model in the Visualization Centre of the UFZ.
OpenGeoSys provides a flexible simulation framework, a wide array of pre- and postprocessing tools to implement comprehensive simulation workflows as well as the possibility to utilize HPC environments for very large simulations runs. It is developed as an open-source community project. Limited support is available at the community forum.
Back to Software Spotlights Overview