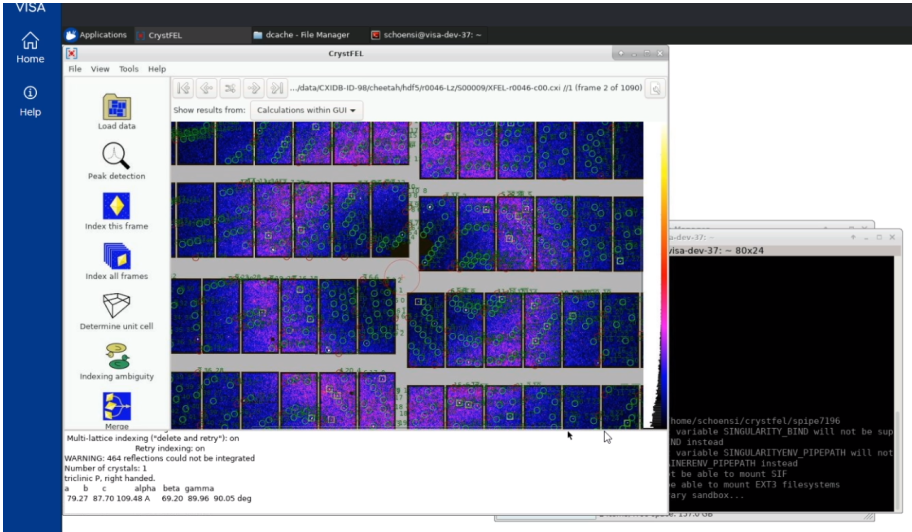 The VISA Portal: Analyzing data in the web browser
The Photon and Neutron science cluster for Open Science, PaNOSC, developed in the last years a Virtual Infrastructure for Scientific Analysis: VISA.
It allows scientists to easily access scientific data and computing resources from their browser. These can either be open data accessible to anyone or data still under embargo originating from an experiment the scientist participated in.
VISA provides a selection of data sets the scientist has access to and mounts them into a virtual machine that is outfitted with analysis software tailored to the scientist's needs.
Furthermore, VISA allows scientists to easily share access to these virtual machines with colleagues working on the same topic from a different geographical location.
This approach to simultaneous access to a common workspace is unique in the sense that it allows scientists to collaborate without the need to install anything on their personal computers. The transfer of large data sets to make them available in an instance of VISA can also be handled in the background by means of asynchronous automated transfer methods. Thus, scientists do not have to carry any storage media from one facility to another, making the process seamless and easily accessible to anyone.
For more details see the VISA documentation and sustainability sheet.
If you want to use VISA, you can request access to the ESRF instance via the EOSC with a short statement of your interest.
Helmholtz Cloud Services enable this pan-European collaboration
In order to further the development and subsequent use of VISA, a collaboration of eleven European research institutes has been established. This VISA collaboration is coordinated by colleagues at SOLEIL, France with support from DESY, Germany. In order to exchange documents, scripts and information, the collaboration is using several services provided through HIFIS:
Because it is available to Helmholtz members and their partners, HIFIS is a key enabler of pan-European collaborations, while respecting data sovereignity.
Get in contact
For the VISA Collaboration: VISA Mailing list
For HIFIS and the Helmholtz Cloud Services: HIFIS Support